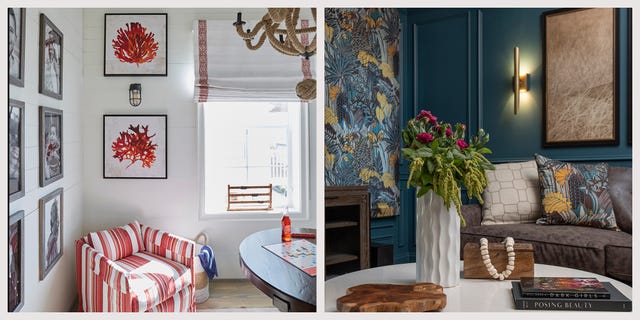 Pinks and Yellows

For a soft, delicate look, consider pairing different shades of pinks and yellows together. A few striking pairs include blush and dandelion; coral and butter; raspberry and dandelion; peach and butter; hot pink and gold; and coral and pear.

Pinks and Greens

A pink and green color scheme can be extremely versatile, depending on the shades used. Brighter pinks paired with darker greens are more intense, while lighter pinks and greens create a romantic spring feel. There are infinite possibilities for this color scheme, but a few of the most common combinations include hot pink and aloe; fuschia and olive; blush and aquamarine; peony and army green; pearl pink and lime; and blush and olive.

Pinks and Blues

Pink and blue, while not complementary colors, are culturally considered to be opposites. As such, they are probably the most commonly paired colors in the United States. Light pinks and blues can be used for children's rooms, while bolder pinks and blues capture a Caribbean sunset feeling and can be used for all kinds of rooms. A few pink and blue pairs include flamingo and sapphire; bubblegum and harbor; salmon and indigo; coral and royal blue; light pink and navy; bubblegum and robin; and pearly pink and baby blue.

Reds and Greens

Reds and greens, although generally associated with Christmas, can be a very attractive and natural-looking complementary color scheme. A few lovely combinations include rosewood and mossy green; scarlet and pine; and cherry and lime.

Oranges and Blues

Oranges and blues are another great complementary color scheme to use in your home. Associated with oceans, sunrises, and the Firefox logo, this pallet combines vibrant with serene, making it an adaptable option. A few popular orange and blue pairs include orange cream and deep teal; copper and teal; and carrot orange and cornflower.

Oranges and Purples

Oranges and purples capture the essence of fiery mountain sunsets, and can be easily incorporated into green or sage color schemes. A few aesthetic color combinations in this scheme include violet and peach; and fantasy purple and orange.

Greens and Blues

Greens and blues are most commonly associated with Earth, peacocks, and plants. As such, a green and blue color scheme is a refreshing, earth-like option for your home's interior. A few green and blue pairs include honeydew and peacock; teal and navy; jade and dusk; and kelly green and baby blue.

Greens and Purples

Purple plants such as lavender, catmit, verbena, and hydrangeas make a great focal point for green and purple-themed homes. Consider one of these green and purple color schemes for your home: seafoam and beet; pistachio and periwinkle; seafoam and royal purple; pale green and purple; or viridian green and purple.
Willow Creek Construction is a construction company that builds custom homes in Salt Lake City and the surrounding area.